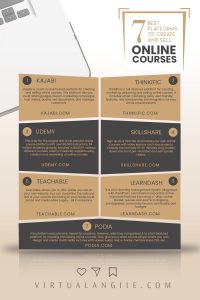 Everyone has something to share –whether it is tips on marketing, advertising, or how to develop and manage a project from scratch.
In 2020, conducting online courses is a great way to leverage our skills no matter what we do. Whether it is coding, marketing, leadership development, language studies or anything else, there are many enthusiasts and professionals available online, eager to learn from you. Besides, it is no doubt a great source of side income, if not a full-time gig.
The numerous alternatives available online today have brought down the barrier to teaching online. Now, creating and selling online courses is easier than ever.
However, it can be a little confusing to choose from the huge number of online course platforms. So, if you're looking for an online course platform to power your business and support your students, but not quite sure which platform is to choose, here are some of the best online course platforms available in the market, their pricing, pros, cons, and who they are best suited for.
WHAT IS KAJABI?
Kajabi is an all-in-one hosted platform for creating and selling online courses. The platform lets you build landing pages, launch marketing campaigns, host videos, audios, text documents, and manage customers. You can power your entire business through Kajabi. It has webinar pages, email system, sales pages, tools to upload and store videos, audio, images, registration for events and many more.

WHO IS IT BEST FOR?
Kajabi is great for solopreneurs, authors, speakers, coaches or anyone who wants a smart looking website for creating and selling their online courses. It has many handy templates you can use, and it does not need much technical knowledge to create content and use Kajabi's vast group of features and functionalities. It has provisions for sales funneling, email campaigning and lead conversion as well.
PROS
Accessible from mobile devices
24/7 online customer support</li
No plug-ins; all-in-one platform for managing the entire business
Zero technical knowledge required for using features like marketing funnel, course building tool or landing or sales page design
Has cloud hosting facility
Community management tools available
Has blogging features, marketing tools, webinar capabilities, web building tools, video streaming, email list, product templates all in one place
CONS
Maybe slightly costly for small-size businesses or starting solopreneurs
Less freedom given to users in terms of website customization
Does not support advanced quiz elements like questions banks, randomization, etc.
No option for creating course certificates
PRICE
Kajabi provides the following plans and pricing options:
Basic plan starts at $119/ month
Growth plan starts at $159/ month
Pro plan starts at $319/ month
WHAT IS THINKIFIC?
Thinkific is a full-features platform for creating, marketing, delivering and selling online courses. It includes email-marketing tools, user-friendly features, and membership site integration for your online course lessons. The templates are highly customizable and ideal for educational course creation. You can create and sell online quizzes, surveys, PDFs, audio, text, video and many more. Build your online course with the drag and drop builder, set pricing, schedule lessons, and set up automation. You can connect to your existing website or set up a website with Thinkific.

WHO IS IT BEST FOR?
Thinkific is a good option for entrepreneurs and creators looking to build a brand around online courses; especially those who want a highly customizable platform and flexible features that can perfectly fit their size and style of business.
PROS
Powerful and flexible course compliance features
Ability to customize branding
Beginner friendly pricing with zero transaction fee on all plans
Ability to bulk sell courses and easily manage students in a cohort
24/7 customer support
Templates having helpful cues and tips to build a valuable courses
Powerful page builder and multiple site themes
Standalone community area for students
CONS
Has no live chat support
Doesn't offer a mobile app
The affiliate interface is not very robust and flexible
Assignment feature is not available on the lower plans
Doesn't support PayPal for recurring payments or non-USD pricing
PRICE
Thinkific provides the following plans and pricing options:
Basic plan $39 per month (free version available)
Pro plan starts at $79/ month
Premier plan starts at $399/ month
WHAT IS UDEMY?
This is by far the largest and most popular online course platform with over 35,000 instructors, 24 million students globally, enrolled in 80,000+ various different courses. Udemy massively supports easy creation and marketing of online courses. It has built-in tools to create quizzes, exercises, assignments, course announcements, Q&A, messaging and so on.

WHO IS IT BEST FOR?
Udemy is vastly used by creators, teachers, coaches and instructors worldwide to create and sell online courses. This platform is great for those wanting to market their courses and make a legitimate viable source of income as well.
PROS
Runs marketing promotions to help reach larger audience
Reliable 24/7 customer support
Provides substantial revenue share for tuition fees
Highly engaged user community gives helpful reviews and feedbacks
Certificate of completion is given for courses
Lifetime access to all purchased courses
CONS
Stiff competition with other course publishers
Certificates are non-accredited
Lenient return policies may decrease sales
PRICE
It is free. Udemy does a revenue share with course creators, keeping 50% of the course sale if made from a Udemy promotion, or 3% of a sale made directly by the instructor. Instructors may set the price of their courses within a range of $20 to $200. Check out more details here.
WHAT IS SKILLSHARE?
Sign up as a Teacher and create your own online courses with video lessons and class projects. Classes are normally 10-25 minutes long, broken down into short pre-recorded and self-paced videos. It has a community discussion forum to connect with other students.

WHO IS IT BEST FOR?
It is best for teachers who are just starting out to teach online. Lessons on creative topics like web design, photography, doodling, cooking, painting, personal branding, email marketing, etc. are the most popular ones. If you are an entrepreneur, designer, writer, photographer, or blogger looking to teach your craft online, this platform is great for teaching such creative skills.
PROS
Professional and high-quality classes available
Offers large user base of creators and entrepreneurs
High quality video editing software available to make beautiful tutorials
Immense freelance opportunity for anyone who has something to teach and wants to work from home
Extremely cheap paid signup (Less than $10 a month)
CONS
Earnings run through a royalty system
Teachers must get 25 students enrolled in their class before they can start earning any money
Only email support for customers
No minimal requirements to be a teacher; anyone can be a teacher
PRICE
Free for creating a premium class. Once you can enroll more than 25 learners in your class, you can participate in Skillshare's Partner Program and earn money through the royalty pool ($1-2 per enrollment). Skillshare pays such partner instructors $10 for premium membership referrals and royalties for minutes watched in a premium class each month. Click here for more info.
WHAT IS TEACHABLE?
Teachable allows you to offer online courses on your own website. You can customize the look and feel of your courses according to your needs, build brand and create sales pages – all in one place. You can use it not just for creating multimedia lectures, course videos, coaching sessions, but also for tracking sales and viewing student insights. It also offers a built-in page editor.
WHO IS IT BEST FOR?
Teachable can be used by anyone looking to create their own online course for the first time and wants to host their training content. Teachable is a great platform for authors, solopreneurs, entrepreneurs and anyone who wants to spend more time teaching and less time messing with their site.
PROS
Ability to create and manage online coaching
Powerful course reporting and analytics tools
Handy sales and marketing features including a well-optimized checkout process, one-click upsells, etc.
Has an iOS App
Fully customizable platform
Add students to marketing campaign, track them in a Google Sheet, and more
CONS
Limited site building capability
Doesn't have inbuilt support for a community forum
Quiz features are pretty average compared to other platforms
PRICE
Teachable pricing options are as follows:
Basic plan starts at $29/month (5% transaction fees)
Professional plan starts at $79/month (zero transaction fees)
WHAT IS LEARNDASH?
It is an e-learning management system integrated with WordPress. LearnDash incorporates all the important features from drag-n-drop course builder, quizzes, and exams to dripping, prerequisites, community forums, certificates, and badges. It has many plug-ins to support you to easily set up courses online.

WHO IS IT BEST FOR?
LearnDash is quite popular with many renowned training organizations, universities and businesses. This WordPress LMS plug-in seamlessly integrates with existing WordPress websites. It supports doing everything you need to run an e-learning business such as managing student enrollment, delivering quizzes, giving out student certificates, viewing reports, and so on. It is great for entrepreneurs who want to sell online courses and already have existing WordPress websites.
PROS
Has a focus mode to eliminate distractions for students
Drip-feed course lessons
Powerful drag-n-drop course-builder is easy to use
Video progression feature
Lessons can be reused in other courses
CONS
Analytics is not that strong
There's a lot to grip for a beginner
PRICE
LearnDashpricing is as follows:
Basic Package from $159/year (1 site license)
Plus Package from $189/year (10 site licenses)
Pro Package from $329/year (25 site licenses)
WHAT IS PODIA?
This platform was primarily meant for coaches. However, later they reorganized it to a full-featured platform for creating and selling online courses. They give you a sleek course player where you can design and create multimedia lectures with videos, audio, text, e-books, memberships, PDF, etc.

WHO IS IT BEST FOR?
This platform is great if you want to avoid high transaction fees and complex interfaces. Entrepreneurs, solopreneurs, coaches, teachers, anyone can use it to launch their online courses quickly, have membership sites and digital downloads.
PROS
Strong affiliate marketing
In-built live chat
Provides live previews
Ability to create individual "Posts" for membership
Offers free migration to Podia
Ability to offer a monthly recurring subscription
CONS
Doesn't support standalone community area on the platform
No mobile app
Not suitable for building a fully-fledged website
Doesn't support cloud import
Does not support graded quizzes, certificates, course compliance, etc.
Course pricing options are not so flexible
PRICE
Podia pricing is as follows:
Mover plan $39/month; No transaction fees
Shaker plan $79/month; No transaction fees
SUMMARY
There are so many options available in the market and choosing the right one can be overwhelming. I would recommend checking out all of these tools to test them for your own needs.
Do you have any questions about any of these platforms? Which platform do you think will work the best for you and why? Please leave a comment below and let me know.
Hope you find the right platform for your needs!